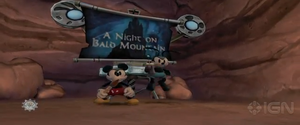 The Night on Bald Mountain is the final segment in Fantasia (1940). It is considered to be one of the scariest Disney moments in history. 
A big, black demon, Chernabog summons from their graves, empowered restless souls.
In Wasteland, it is a Projector Screen that connects the Angel Side of Rainbow Caverns to Disney Gulch, as well as the Mad Doctor's old attic to the Ride the Mad Doctor constructed, where the final boss battle in Epic Mickey 2: The Power of Two happens.
Videos