Black Pete is one of the earlier and forgotten versions of Pete. Black Pete proceeded Putrid Pete who appeared in Oswald the Lucky Rabbit cartoons and has, by this time, shed his bear-like appearance, and had become more defined as a cat.
Black Pete appeared in only a few cartoons, such as The Gallopin' Gaucho and Steamboat Willie.
In Epic MickeyEdit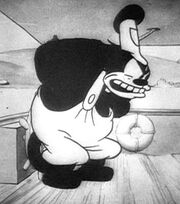 Black Pete appears in one of the Projector Screens, the one based off Steamboat Willie that links to certain areas in the Gremlin Village. He serves as backround in the first stage. He has a larger role in the third and final part in which he stomps his foot and causes potatoes that can roll down the stairs and hurt Mickey.
His steamboat itself possibly appears in the main area of the village as Small Pete's boat. Although, now is extremely old, rusty, and is inert. 
There's a possibility that Black Pete became one of the lost characters inside the blot. Once Mickey defeats all the Bloticles towards the end of the game, it is most likely that he is restored to his normal form.
Much like the other Petes, Black Pete's grunts are provided by Jim Cummings.