Bog Easy
is the Wasteland version of New Orleans Square. It is styled after New Orleans architecture and is surrounded by a bayou. In this area, Mickey encounters
The Lonesome Ghosts
, who where driven form lonesome manor by the maddend
Pipe Organ
and now spend theire time scaring the town's residents. Other characters such as
Louis
and Animatronic
Donald Duck
call Bog Easy their home. The iconic River Boat from the Disney parks can be found partially submerged in the marsh when Mickey first arrives in this land.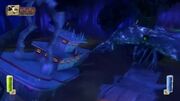 . In order to open the gate to
Lonesome Manor
, there are two ways (good and bad). The good way is to help Bertrand and Louis gain their courage. Bertrand gain his courage if you light all the lamps on the street, while you have to find Louis's courage locket at the sunken ship. The bad way is to help the
Lonesome Ghosts
to scare Louis by erasing all the lamps around his house.
There is a shop in Bog Easy ran by Bertrand. But you'll have to find his shop sign first after you defeated the Mad Doctor. He sells Animatronic Donald's part if you missed it at the Lonesome Manor. The price is 1000 E-Tickets for each part.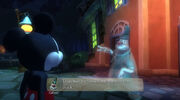 Residents