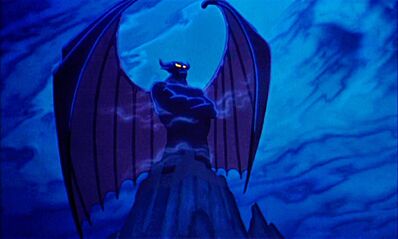 Chernabog
is the main antagonist of the "Night on Bald Mountain" segment of the film
Fantasia
.
Appearances
While he doesn't appear directly in Epic Mickey, there is a painting of him in the foyer of Lonesome Manor hiding Gremlin Haig and the "Lonesome Manor I" Extra Content.
The actual character does make a cameo appearance in the Epic Mickey digicomic, "Oswald the Lucky Duck". Oswald's third attempt to remake himself with the Mad Doctor's Projectorinator turns him into a rabbit/devil combination and, as Oswald soon finds out, sets him on Bald Mountain with the baddie himself. As Oswald is rooted in one place (like Chernabog is), he can't escape as a big, black claw reaches down toward him. Fortunately, due to Chernabog summoning fire, the Projectorinator catches fire and explodes, freeing Oswald from the demon.
Chernabog appears in Epic Mickey 2: The Power of Two as his segment is one of the projector screens that connects to Rainbow Falls to Disney Gulch. Here, he can be seen in the background. Later, a second segment connects the Mad Doctor's Attic to the Mad Doctor's attraction. This one goes up Bald Mountain itself, so Chernabog can be better seen at the end. 
Trivia
External Links
Community content is available under
CC-BY-SA
unless otherwise noted.