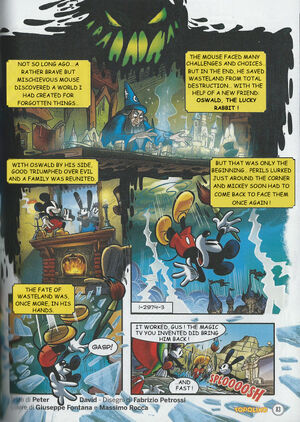 Epic Mickey 2: The Power of Two Graphic Novel is a 48-page sequel to Epic Mickey: The Graphic Novel, appearing in the Italian Topolino magazine. It is based off the events of Epic Mickey 2: The Power of Two. Like its predecessor, it was written by Peter David; the art is by Fabrizio Petrossi and the colors by Giuseppe Fontana and Massimo Rocca.
Differences with the game
Like for the first Graphic Novel, Peter David made numerous changes to the script to better fit a comic format.
Prescott: What do you think of me now, Gus ? Jam face couldn't have built anything like this, even on his best days ! But you always preferred him over me ! I know it ! He was your "golden gremlin"… That's why you put me in charge of this useless factory, while he got all your cares and attentions !!!
Gus: That's not true ! He just needed my attention more ! Jamface was always the most fragile of you two, while I knew you could be trusted on your own, so I…
Prescott: Liar ! I don't want to listen to you any longer !
Releases
Although there had been plans to release it in English (at least as an e-book like the first graphic novel), the weak sales of the game and the shut down of Junction Points caused it to be cancelled (although it did see print in Italy, France and Brazil). Sketches and storyboards with the text in English have leaked, proving that Peter David had written an English script for the story, but only fragments of it were released to the public through said sketches. There have also been two attempts to scanlate the story in English, only one having reached completion.
Trivia
Gallery