Finding the Hidden Heroes
is a Side Quest initiated by speaking with Seth in Mean Street South, near the
guardian pool in the center of town.
Seth will alert Mickey to the existence of various Oswald and Mickey shaped objects in the world. He asks Mickey to return to him with pictures of these objects so that he can trim his flower bed to look like whichever character he gets the most pictures of.
Technically this is optional, if a serious challenge is desired, but it is strongly recommended. Visit the Emporium and The Shanty Shop throughout the game to purchase Hero Maps with the locations of the photo opportunities.
Mickey needs to visit Adelle's Camera Shop in Mean Street North to acquire a camera.
When using the camera, the mickey-shaped viewfinder will turn green when a Hidden Hero is in view. Pictures of hidden heroes will not fill up the camera roll (neither can they be unloaded in Adelle's photo album).
Return to Seth
When enough photos have been found, a quest turn in prompt will come up. At this point Mickey can return to Seth to turn in some photos.
After Seth gives Mickey the quest, he can no longer be found in the center of town. His garden is located on the other side of the Main Street South train station, which can be reached by thinning out the center of the ledge between the train station and the center fountain, or helping the gremlin repair the doors to the right. This opens a pathway underground. Take a right, then a left to find Seth and his garden.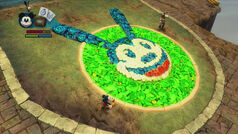 If enough photos of both Mickey and Seth have been taken, Seth will ask which set he should take. After giving him one set, it's possible to also turn in the other set. Seth will reward each turn-in with some dollars.
After enough turn-ins, likely not until some time in Episode 3, Seth will finally decide to decorate his flower garden. If photos of both Mickey and Oswald have been turned in, Mickey will get to choose who to model the flowers after. To get the Heads Up achievement, have them match the statue in OsTown (requires completion of the Goofy's Fountain Mishap Side Quest).
Community content is available under
CC-BY-SA
unless otherwise noted.