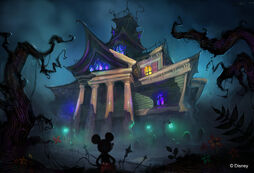 Lonesome Manor
is a major world in the
Cartoon Wasteland
that is based on the Haunted Mansion ride in the Disney parks. There are also some factors from the cartoon
Lonesome Ghosts
.
Locations
Hubs
Levels
Projector Screens
Notable Residents
History
Inside the manor, there are countless artifacts to find such as the Colonel Pete cartoons and Constance Hatchaway's hatchet. The cartoons are in front of the stairs in the foyer, while the hatchet is in the library rafters. The manor features several unique enemies, and Mickey encounters the Mad Doctor here.
An easily missed Gremlin lies in the foyer. The painting of Chernabog can be thinned if you ride the tables up to it. Settle the poltergeists with Screeching Sam's quest before though, and you can't get to him at all.
There is yet another Gremlin in a secret alcove in the stretching room. He is the hardest to find if you don't know where to look that is.
Towards the end of Epic Mickey 2: The Power of Two, Mickey and Oswald return to the Mad Doctor's attic to free Gremlin Jamface who is trapped in a giant snow globe.
Gallery
Concept Art
Screenshots
Trivia
Community content is available under
CC-BY-SA
unless otherwise noted.