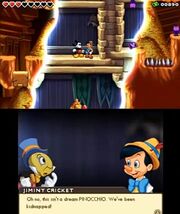 Pinocchio
is the main protagonist of the Disney film
Pinocchio
. He makes his first appearance in
Epic Mickey: Power of Illusion
, where the evil witch
Mizrabel
has sucked him out of the
Toon World
and into her
Castle of Illusion
, which is now situated in
Wasteland
.
Like the other characters saved by Mickey and Jiminy Cricket, he will request Mickey's help to get him home safely. He can be found in Cave of Wonders: Entrance. Once rescued, he returns to the Fortress and waits patiently with Oswald.
Quotes
"Hiya, Jiminy! Gee, is this some kind of dream? Cause' if it is, I wanna be a real boy."
"Kidnapped?!"
"Oh, boy! When I get home. I want you both to meet my new friend, Honest John. He says I'm a natural born actor, and he's gonna get me a job!"
Community content is available under
CC-BY-SA
unless otherwise noted.