Pluto is Mickey's dog and pal. He is a yellow bloodhound that made his debut appearance in the 1930 cartoon The Chain Gang[1]. He has a black, thin tail, floppy black ears, and a large black nose and wears a green collar around his neck.
Since his debut, he has been recognized as one of the Sensational Six and has continued to have success with his own shorts and cartoons. Pluto lives in the Toon World in Mickey's House. He is referenced in Mickey's House in Wasteland, where his bowl can be found.
Despite appearing in concept art for Epic Mickey, Pluto only makes his first appearance in the series in Epic Mickey: Power of Illusion. Like most of the other popular cartoon characters, Pluto is sucked into Cartoon Wasteland by Mizrabel's powers to steal his Toon Essence. She traps him in her Castle of Illusion, and it is up to his owner to rescue him.
An Animatronic Pluto was planned for Epic Mickey but was scrapped in early production.[2]
Epic Mickey: Power of Illusion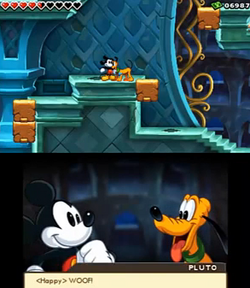 Pluto can be found in the Castle South Hall. Once rescued, he will return to the Fortress and set up his own room.
Since Mickey is able to understand his pooch, Pluto will gladly give Mickey some quests to complete as he continues his journey through the castle.
As Pluto can only bark, Mickey will translate his actions for the player.
Quests Given
Trivia
Curiously, Pluto is not seen in Mickey's House in all of the game's introductions. Most likely, he's in his dog house outside.
He is mentioned by an unknown caller, if you connected the Telephone in OsTown, telling Mickey to get his dog off his lawn.
He appears as a toy in some of the junk on Mickeyjunk Mountain in the first Epic Mickey.
He didn't visually appear in the original Epic Mickey game but is seen in concept art.
One of Pluto's own cartoons, Plutopia is one of the Projector Screens to Tomorrow City.
One of Horace Horsecollar's cases is to find a Robot Dog tag, this is speculated to be an Animatronic Pluto.
References