The robot head is a device on Mean Street South in Epic Mickey 2: The Power of Two. You can either repair it or destroy it.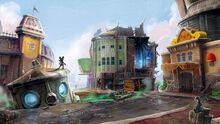 Paint Path
After defeating the Blotworx Dragon go to the middle of the street. Talk to the blue gremlin there. Give him some scrap metal and he will repair it. You can go down to a tunnel that leads to a passage to the underground.
Thinner Path
Go to the sides of the device. Look up. You will see two toon areas to thin out. You can now see the two reprogramming points there. Have Oswald reprogram them to overload the device and destroy it.
Community content is available under
CC-BY-SA
unless otherwise noted.