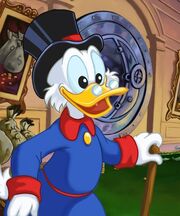 Scrooge McDuck
is a duck from the
Mickey Mouse
cartoons, and is the uncle of
Donald Duck
. He appears in
Epic Mickey: Power of Illusion
,  where he is sucked out of the
Toon World
by
Mizrabel
into
Cartoon Wasteland
, in the
Castle of Illusion
. He is notable for being a suprisingly popular character, who has helped make the fan dubbed "duck universe" into what it is today.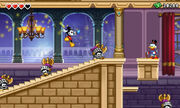 He is the second Toon Mickey will rescue after Beast in Castle East Hall. Once rescued, he will return to the Fortress and set up his room.
After both of his Quests have been completed, he will set up a store for Mickey to purchase upgrades in. Once all upgrades have been purchased, there will be nothing more Scrooge can do to help Mickey with his quest, though he will still allow you to browse.
Quests Given
Trivia
At one point, Warren Spector even said that Scrooge McDuck was his favorite Disney character, with Oswald as his second, and Mickey as his third. But more recently he has claimed that Oswald is his favorite.
Although he isn't related to Mickey, Scrooge will tell Mickey that any friend of Donald is an honorary nephew of his.
When used as a sketch, Scrooge will bounce around the area on his cane, taking out any enemy in Mickey's way. The attack and the way it's executed is similar to the original Ducktales video game on NES.
Community content is available under
CC-BY-SA
unless otherwise noted.