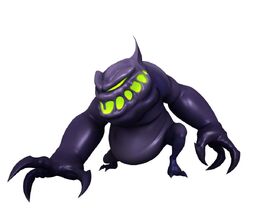 Slobbers
are another rotund foe in
Epic Mickey
and
Epic Mickey 2: The Power of Two
, and are by far the hardest non-boss, blot species enemy in the game. In the first game, according to
Gremlin Gus
, encountering one of these meant that the
Blot
really wanted to stop Mickey. It is first seen in the Great Big Tomorrow exhibit in
Epic Mickey
.
List of Slobbers
Great Big Tomorrow Slobber
Library Slobber
Battle of Mean Street Slobber
Battle of Bog Easy Slobber (Appears in the square but only sometimes so this may be a glitch)
Battle at Tomorrow Square Slobber (Appears after you have taken out all of the other blotlings in the area)
Mad Doctors Lab Slobber
Throne Room Slobber
Loss Tower Third Room Slobber
Inside the Blot Slobber
Strategy
The Slobber has three forms of attack: up-close melee, thinner blasts, and a giant inhale. The only way to cause damage to the beast is to wait for it to try and inhale Mickey, then pump it full of paint or thinner.
To defeat it, throw Thinner inside its mouth when it tries to inhale you. To redeem it, throw Paint inside its mouth when it tries to inhale you. If you throw enough Paint or Thinner, it will get choked up, giving you time to run away from it. If you don't, it will continue to smash you after it tried to inhale you.
If you have 2 guardians, try using them. Use 2 Tints to befriend it, or use 2 Turps to defeat it.
All sketches (other than the watch sketch) cause a Slobber to open it's over-sized mouth.
Notable individuals
Trivia
Gallery
Concept Art
Screenshots
Icons
Community content is available under
CC-BY-SA
unless otherwise noted.