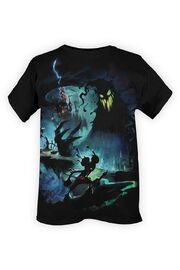 Many T-shirts were made for the release of Epic Mickey.
One T-shirt was released for purchase either at the Hot Topic store, or Hot Topic's Online Store. It features the cover art of Epic Mickey, with Mickey facing down the Blot. There is also one featuring the logo.
Other countries have also released several different T-Shirts, some promotional, others available for sale directly from select stockists. Many of these shirts are inspired by Epic Mickey 2: The Power of Two, and a few of these shirts also feature Oswald the Lucky Rabbit. The sizes for these shirts vary greatly, from large adult T-shirts to very small children's sizes.
More tees were released in 2020 by Hot Topic, featuring designs from Epic Mickey and Epic Mickey 2. This prompted some fans to speculate a future series installment.[1]
Gallery
References