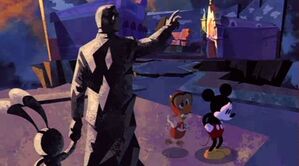 "I'm Oswald. I run the Cartoon Wasteland. At least I used to." -Oswald, Epic Mickey
Hi there! I'm one of the few remaining contributors on the Epic Mickey wiki, and my goal is to make this site as good as it can be! I'm a classic Disney geek, and that's one of the reasons I love the Epic Mickey series so much. I first played Epic Mickey 2 in around 2017, and I purchased a Wii mainly for the reason to play the first game!
I'm always ready to help, so if you need assistance with anything be sure to send me a message on my Talk Page here or on my Discord above!
Epic Mickey Docs, owned and operated by Oswaldiscool, is a helpful place to find documentation and modding guides for Epic Mickey.
My Favorite Pages
Community content is available under
CC-BY-SA
unless otherwise noted.