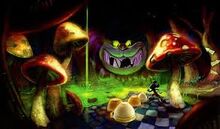 Hello, folks, GeekGuru98 is here on the Epic Mickey Wikia, like I am on several others!
If you couldn't tell by the fact that I even have a profile on this Wikia, Epic Mickey is one of my favorite games of all time (as far as 3rd party games go). The original has got to be the absolute best Disney game I have ever laid my eyes on with, great story, graphics, and a dark atmosphere which is most certainly unique apart from every other Disney game out there. Yes, I know like everyone else that it suffers from gameplay quirks, but it's so good in every other area that I like to overlook that. The sequel tends to have a better emphasis on more streamlined and crisp gameplay, but it sadly lacks the charm that its predecessor had so it isn't as good (but still a nice experience).
If there's one thing that I like about the two games, it's that Wasteland provides a unique atmosphere complemented by a fantastic cast of characters that are great to see and learn more about. I personally like Oswald the most (as many other Wikia members do, too) as his personality and story in both real life and in the Epic Mickey series is relatable and touching. The development behind the series (the beta of the first game as well as the beta of the sequel) is also rather intriguing to look into and has inspired me to try to establish a future as a software developer.
My Favorite Pages
Community content is available under
CC-BY-SA
unless otherwise noted.