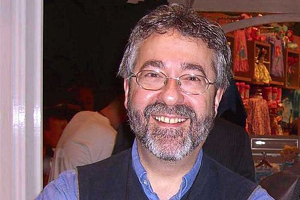 Warren Spector (born October 2, 1955) is a role-playing game designer and a computer game designer of Epic Mickey. He is known for having worked to merge elements of role-playing games and first-person shooters. He currently resides in Austin, Texas with his wife, fantasy writer Caroline L. Spector. He is best known for the cyberpunk FPS/RPG hybrid, Deus Ex (and its sequel, Deus Ex: Invisible War) and Thief.
He worked with Junction Point Studios until their closure in 2013.
Epic Mickey Edit
Warren Spector became part of the Epic Mickey project in 2005 when his agent suggested that he meet with Disney. Although at first, he was doubtful that they'd hire him, since he's known for making M-rated games mostly targeted at adults, he agreed to go. He pitched a fantasy game and science fiction game to a room of Disney Interactive executives. He noticed during his presentation, that they started checking their mobile phones, which Spector assumed was a bad sign. However, to his surprise, they were actually texting each other, discussing whether or not they wanted to tell him about their Mickey project that had been in development since 2004. They ultimately decided to share it with him, to which Spector responded with a "yes" to working on the project. He later stated that he couldn't say "no" to working with the "most iconic character on Earth".
In 2007, after having parted ways for one year, Disney Interactive Studios returned to Spector with a small team to begin working on the game. The summer of 2007, Spector said, was when the game development seriously began. In January 2008, Graham Hopper, the head of Disney Interactive Studios suggested that they make it a Wii exclusive title. Warren Spector approved of the idea because of the mix of gamers and non-gamers on the Wii platform, and how fitting the platform is for a Mickey Mouse game. The team agreed and development went into full effect.